Would You Pray With Courtside?
Courtside Ministries uses a team of dedicated, passionate volunteers to reach out to people involved in the courts.  Is God calling you to the Courtside team?

Do you have a passion to reach the lost?
Do you have a burden to pray for those in desperate need?
Are you looking for a way to reach out in your community?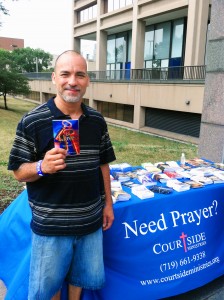 If you answered "yes" to these questions, then God may be calling you to reach out through Courtside Ministries.
If you are interested in seeing Jesus work outside the church walls contact us at the following ministry locations: