Welcome to California
Redding, California
The Courtside table meets outside the Superior Court of Shasta County and is led by Linda Tobin Graham.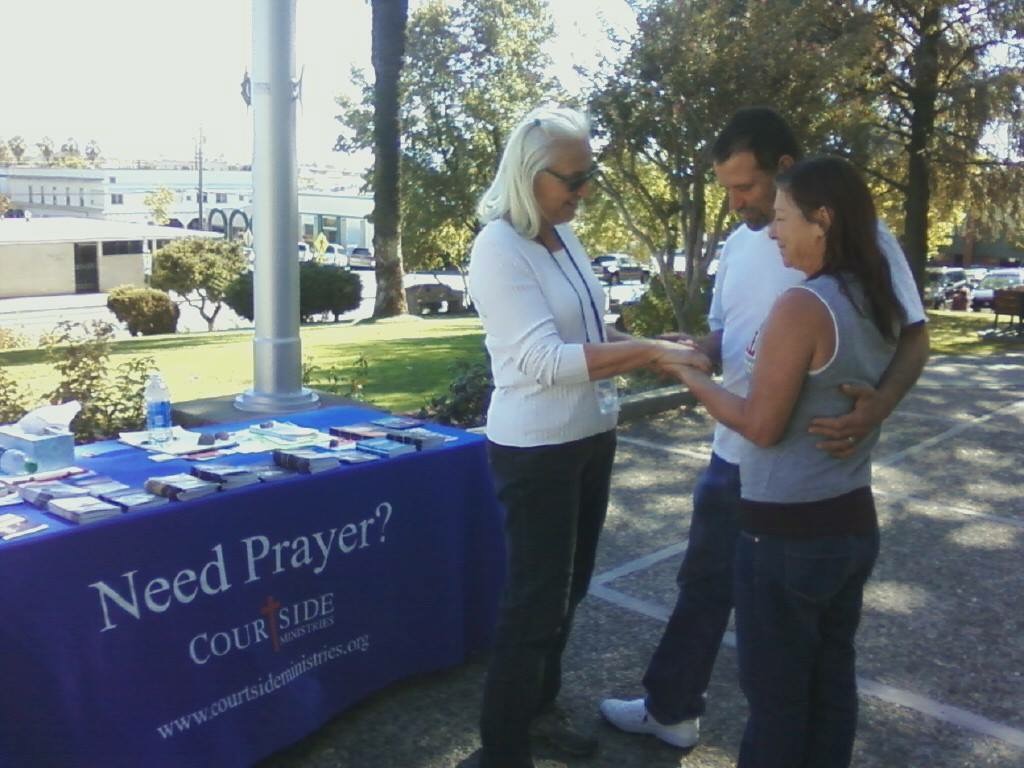 When:
California Courtside meets Thursday from 8:30am-12pm.
Stop by if you have a Thursday mornings free to serve and
pray with those who are downtrodden and disheartened.
Location:
Superior Court of Shasta County
1500 Court St., Redding, CA 96001
Contact Information:
Conni Mendonca, the California Redding Leader, may be reached at
cdteach47@aol.com.
---
Red Bluff, California
When:
Monday from 8:30am-12pm
Location:
Superior Court Tehama County
633 Washington Street Red Bluff, CA 96080
Contact Information:
Pam (Team Leader) at: pamarieice@hotmail.com
---

Follow Us On Facebook

Get updates on Courtside's work in California at Facebook.com/CourtsideMinistriesCalifornia.
Government Officials:


We prayed for a judge and the Chaplain for the County here in Redding one day! It is amazing to see how God brings divine appointments and then He gives us prophetic words, a word of knowledge, and simply encouraging words to share with those who visit the Courtside table.
Trial For Murder:
We were asked by the parents of a man who was on trial for murder to pray for him and for them. It breaks our heart that so many families are affected by one violent act. We have seen some amazing breakthroughs and people being healed at the Courtside table, not just physically, but an inner healing as well. Being healed of old wounds and hurts. We have a loving, kind, caring, and compassionate GOD who loves to see us healed and coming to a place of wholeness! He created families and He can heal families!
Community Improvement:
Cindy couldn't wait to run over and share that she and her husband have had great favor from the city and county officials with the development of their business for the City of Redding and their families. We prayed for her a couple of weeks ago and she said the favor of these officials followed shortly after!
Healing:
Prayers were given for deliverance from addictions and reconciliation; brain injury; child custody battles; a man going through divorce; A young woman on trial for murder, as grandparents care for her daughter; and many more….ALL experiencing God's presence and the love of the Father at their most critical time of need!…All received referrals to faith-based resources and churches.
Police Officer:
We prayed with this Chief Petty Officer and more than 30 others one day in March! God is faithful and His presence is touching many lives. A man received prayer from gang attacks, a woman forgave her husband for cheating on her, a mother and daughter recommitted their lives to Christ.
Our Mission & Vision
Courtside Ministries mission is to enable people working in or going in and out of courthouses to experience the love, grace and power of Jesus Christ by inviting His presence through prayer. We desire to see people globally encouraged through hope, strengthened through prayer, guided by the Bible, helped by the community, reconciled to each other, and forgiven through Christ. To accomplish this mission we will partner with local churches and faith-based social services for sustainable follow-up and support.